What can you expect from APEX Group?
APEX Group heat transfer equipment is custom-designed according to our clients' process and structural needs. Our propriety plate-type and tubular heat exchangers are suitable for a wide range of services, such as: combustion air preheaters, gas heaters or gas coolers.
APEX Group stands ahead of the competition because of its extensive know-how, patented technologies and leading-edge engineering. Our Research and Development department supports APEX Group's activities by continuously upgrading our products. This guarantees efficient heat transfer, a long lifetime, and trouble-free, user-friendly operation.
A Highly Esteemed International Reputation
APEX Group has acquired a reliable reputation as a consequence of its many successful deliveries. We have serviced various reputable customers across the globe working in various sectors, such as: Oil & Gas, Energy, Petrochemicals, Waste-to-Energy and Environmental.
A Future-Oriented Outlook
APEX Group focuses on long-term sustainability and success. On the one hand, we strive to develop solutions and products that anticipate market needs by continuously taking onboard customer feedback. On the other hand, as a family-owned company, we are able to build close connections with our customers which ensures a personal approach and allows long-term professional relationships to form.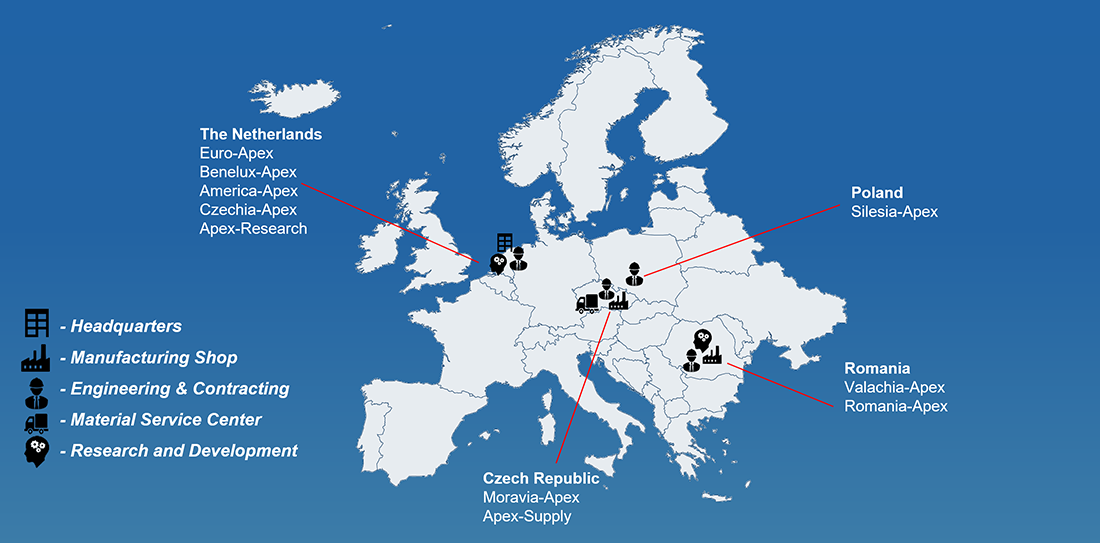 Chief Executive Officer
Ms. Chris-Marije Dinulescu
+31 (0)70 300 4242
Contract Controller
Ms. Aleksandra Migas
+48 (0)32 381 5050
Technical Sales Managers
Mr. Bartek Miga
+48 (0)32 381 5050

Mr. Luis Fernandes 
+31 (0)70 300 4242
Group Welding Engineer
Mr. Michal Kadlec
+42 (0)541 424 830
Chief Technology Officer
Mr. Artur Gajda
+31 (0)70 300 4242
In-house Legal Counsel
Ms. Iva Termorshuizen
+31 (0)70 300 4242
Project Controllers
Ms. Eleni Krul-Machaira
+31 (0)70 300 4242
Ms. Aleksandra Migas
+48 (0)32 381 5050
Mr. Ismail Ardahan
+31 (0)70 300 4242
R&D Manager
Dr. Jens Kitzhofer
+31 (0)70 300 4242
Group Finance Manager
Mr. Ben Noordhoek
+31 (0)70 300 4242
Mechanical Design Manager
Mr. Michal Roskošný
+42 (0)541 424 830
Logistics Manager
Mr. Mirek Krejsa
+31 (0)70 300 4242
Group QA/QC Manager
Mr. Radek Švagr
+42 (0)541 424 830