Quality Management System
Since 1999 APEX Group Quality Management System complies with the requirements of consecutive generations of ISO 9001 standard.
Quality Assurance and Quality Control:
We choose the best materials and work in our in-house fabrication machines
Also, we carry out stringent quality controls during the entire production process
We take pride in having an internal Quality Control Department that assures that all the units are properly inspected before being send to the client
Manufacturing facilities also follow the latest Quality Assurance ISO 9001:2015 and Health & Safety standards
Group QA/QC Manager: Mr. Radek Švagr
QA/QC Manager (Moravia-Apex, CZ): Mr. Michal Kadlec
QA/QC Manager (Valachia-Apex, RO): Mr. Cosmin Dănilă
Quality Inspectors;
Painting Specialists;
NDT Specialists (Visual testing for welds and Penetrant testing of welds, acc. EN ISO 9712);
Welding Engineers.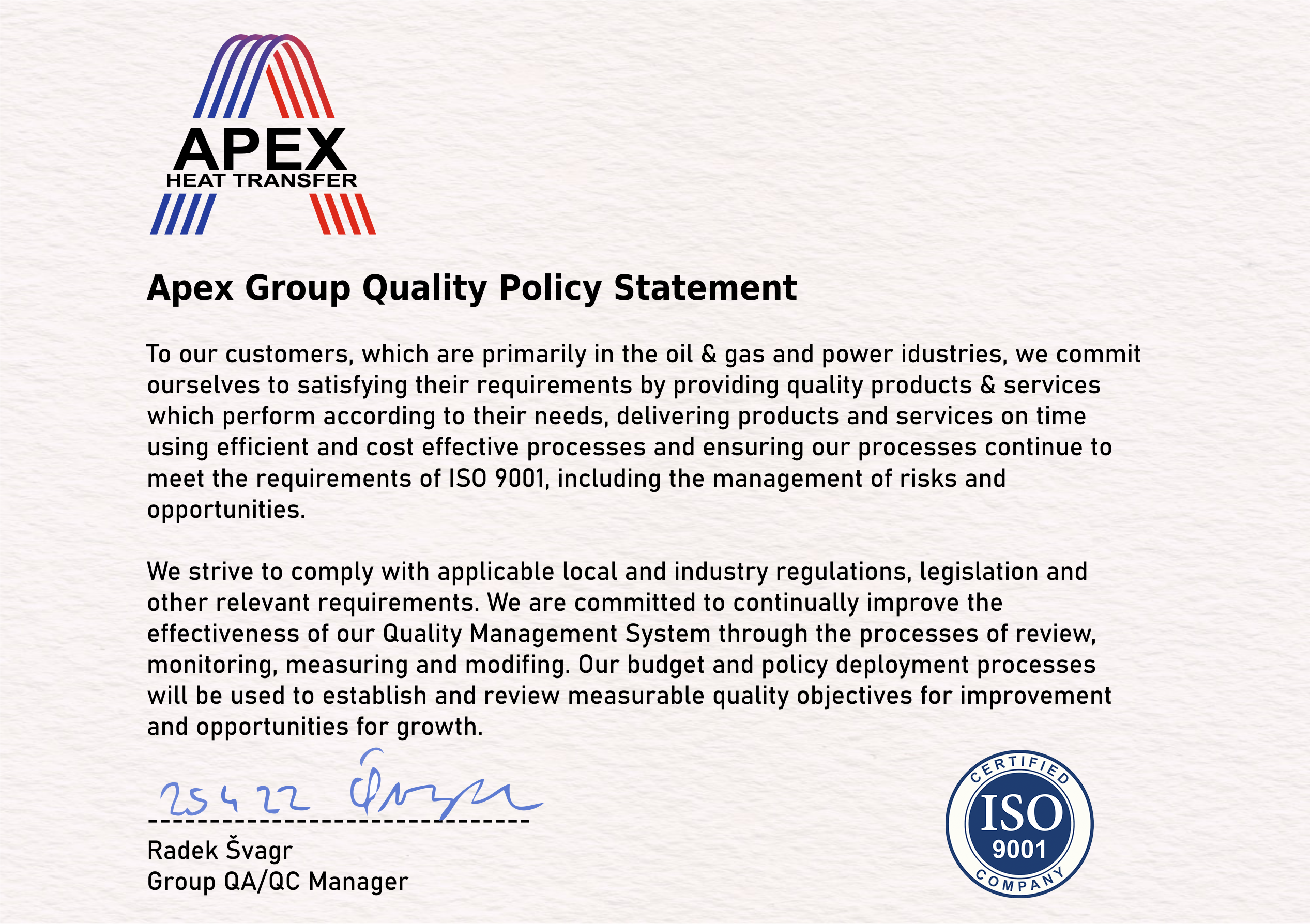 N.D.T. Equipment available:
Dye Penetrant & Magnetic Particle Examination
Pneumatic / Hydrotest Leak Detection
VT, RT and UT Examination
Pressure Vessels 3rd Party Inspectors:
MOODY International, CZ
Inspekta / Brno, Czech Rep.
TÜV, Germany
TÜV Czech Republic
Lloyd's Czech Republic, and others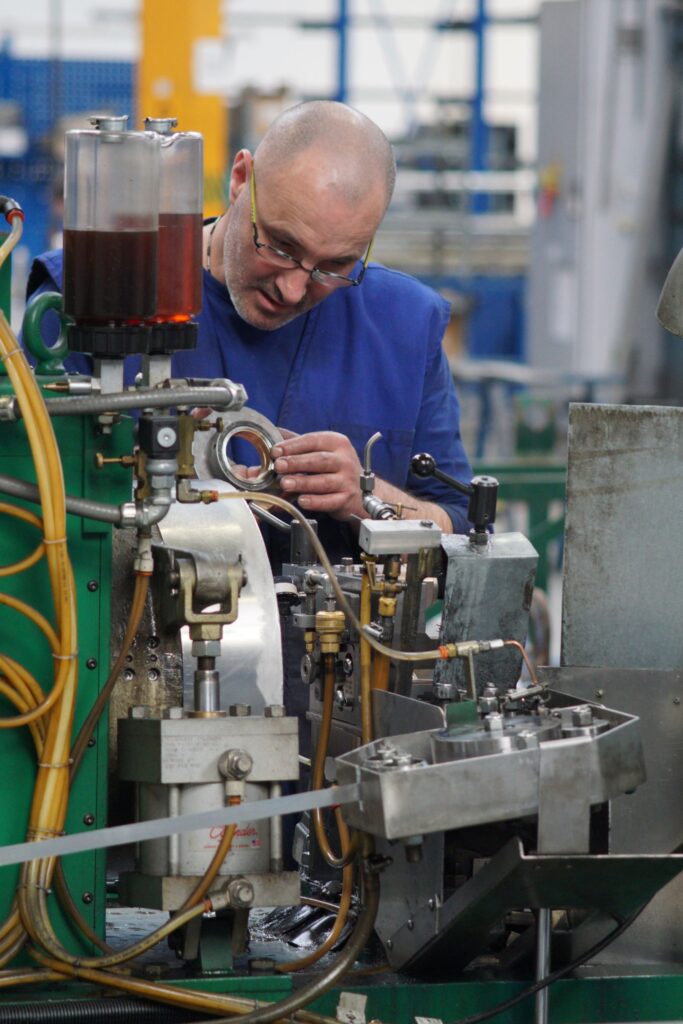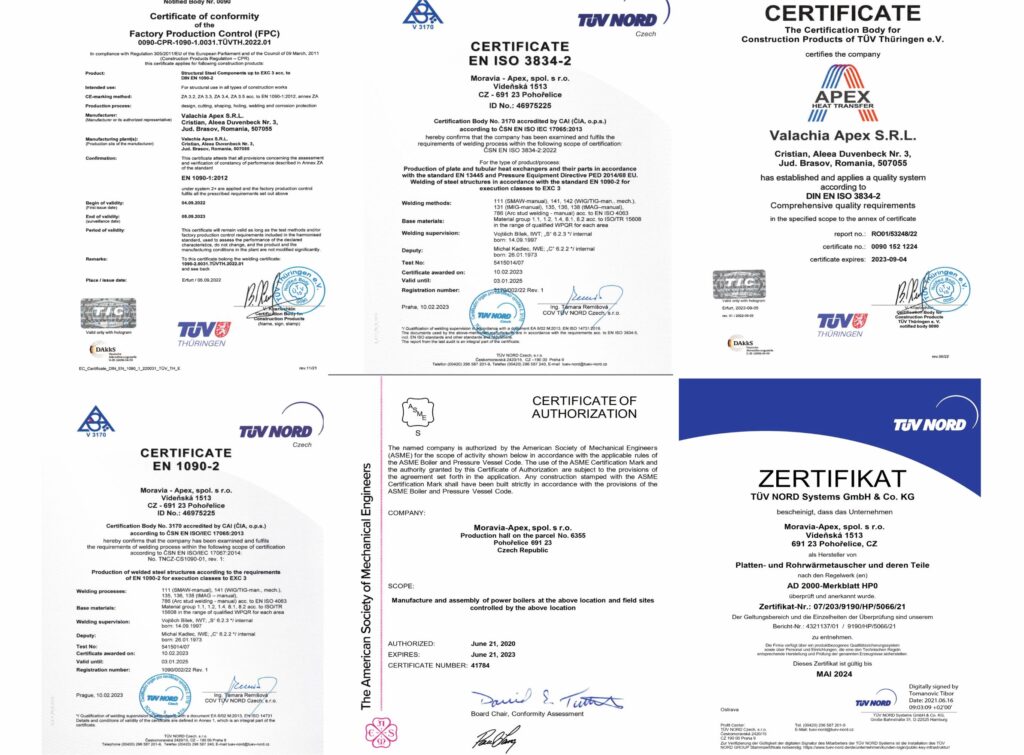 EN ISO 1090
EN ISO 3834-2
ASME Section IX
ASME section I (S designator)
ASME Section VIII Division 1 (U Designator)
AD 2000 (AD-MERKBLATTER)
ASME B31.1 and ASME B31.3
EN 13445-1 and EN 12952-1
Local regulations: PED, METI, ABSA (Alberta Boilers Safety Association), IBR (Indian Boiler Regulations)
EN ISO 5817
EN ISO 23277
EN ISO 23278
EN ISO 5579
ASME Section V
Engineering Codes and Standards:
ASME, ASTM, API, ASCE
AISC, IBC, Eurocode
EN, JIS, TR CU
PED and more