R&D - The Foundation of APEX Group
APEX Group's Technology is supported by its own Research and Development Department. We believe it is vital to develop our products with the support of the R&D professionals who are committed to APEX Group's vision and goals. This is why the R&D Department was incorporated since the beginning in our company. 

The R&D Department aims to increase the efficiency of existing technologies by improving heat exchangers and working towards their digitalization. Additionally, they are continuously investigating ways our heat exchangers can apply in emerging technologies like Carbon Capture (Direct Air Capture or Post-Combustion Capture), Concentrated Solar Power, Biomass plants, Bio-Refineries and Thermal Batteries.
Our R&D Department is dedicated to broaden our knowledge in heat and mass transfer, fluids mechanics and construction materials' properties, to continuously improve our products and to deliver the best possible engineering solution to our customers.
APEX-Research consists of qualified engineers with Master and PhD degrees in laser optical measurements and experimental fluid mechanics. Their area of expertise comprises in internal flows and heat transfer, covering a wide range of engineering applications like diffuser flows, heat exchanger flows, filtration systems or complex ducting systems.
Experimental Fluid Dynamics;
Flow modeling on scaled models;
Analysis of boundary-layer phenomena;
Heat transfer laboratory experiments;
CFD Simulations.
Research & Development Facilities:
Transparent facilities for flow analysis within scaled models;
Hot flow facility for heat transfer studies.
Laser Doppler Anemometry (LDA) for accurate velocity measurements;
Particle Image Velocimetry (PIV) for flow structure analysis;
Static and dynamic pressure measurements for pressure drop analysis;
Hot Wire Anemometry for turbulence analysis;
Infrared Thermometry for heat transfer analysis;
Thermo-element measurements;
Latest 3D Printing technology.
A peek into our Laboratory
Take a peek in APEX Group's R&D Laboratory to see some LASER experiments and to understand how we contribute to sustainability. See our Founder and our R&D Manager presenting innovative measurement techniques and APEX Group's vision in Dutch show Doe Maar Duurzaam ("Be Sustainable"), broadcast in October 2018. 
Launch of our Premium Software Platform
The latest development from the Research Department is the Apex® Suite, a proprietary software package offered in 3 options, available under The Premium Software Platform: 
Apex® Suite – Digital H-EX Twin;
Apex® Suite – Original;
Apex® Suite – Excellence.
Contact us to find out more about this software and what it can do for you.
Advanced Flow Measurement Services
By using advanced laser optical measurement techniques, we gain insight into the unknowns of turbulent flows. Moreover, our knowledge of internal channel flows and the distribution of large amounts of flow, facilitates the optimization of your process.
This helps our customers worldwide to achieve their targets for sustainability, while maintaining product quality. The work may be done in our laboratories or by request in the customer's installations.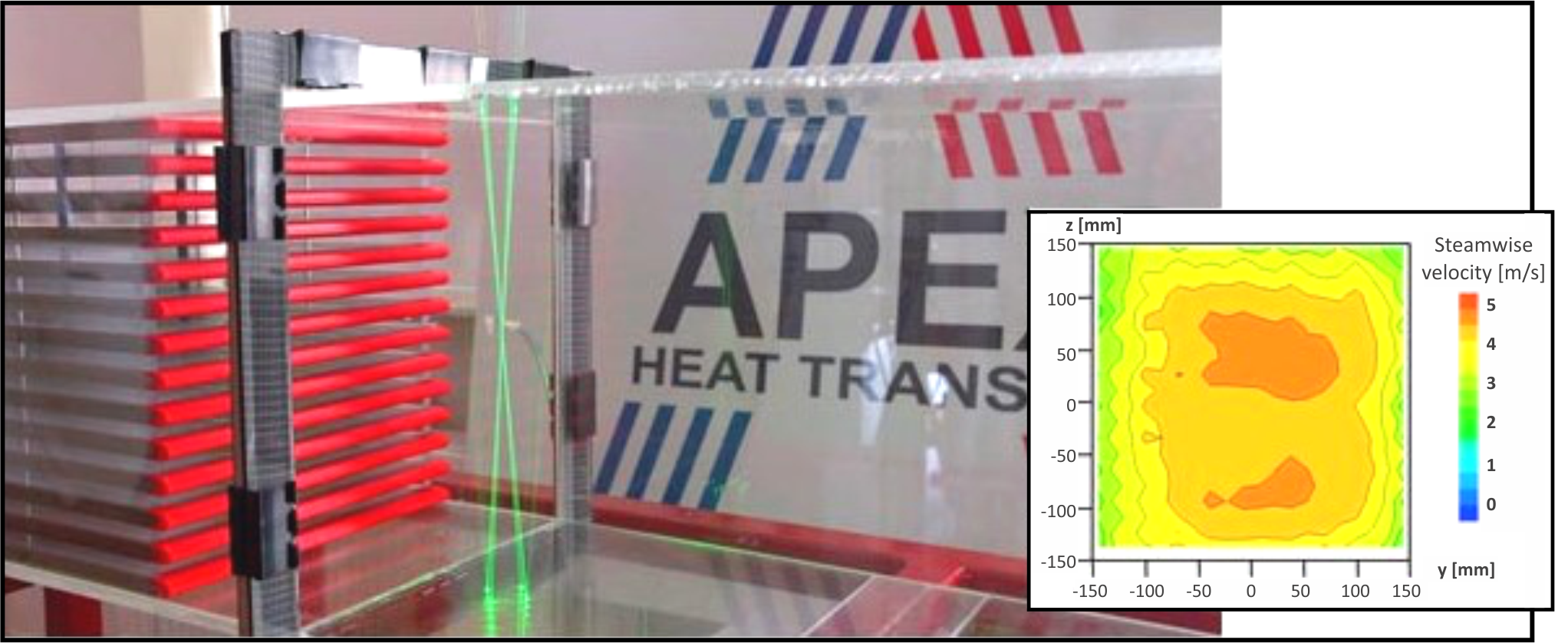 Left: Physical Model used for Laser Optical Measurement Techniques. 
Laser Beams from LDA System can be observed as green lines in the image.
Right: Result of LDA in a cross section upstream of a heat exchanger model. Colour coding shows streamwise velocity.
Predictable Operation by simulation of the APH system
APEX Group Computational Fluid Dynamics (CFD) expertise covers the CFD simulation of the complete fired heater and heat recovery system. We can conduct various types of analysis, depending on the customer's requirements. We can simulate an actual installation, with the purpose to identify less-effective areas in the system (e.g. non-uniform flow distribution, large pressure drop or vibrations in the fan). Additionally, we can simulate the optimization of the installation, with the target to overcome the imperfections and to achieve a reliable operation of the complete fired heater's air and flue gas distribution system.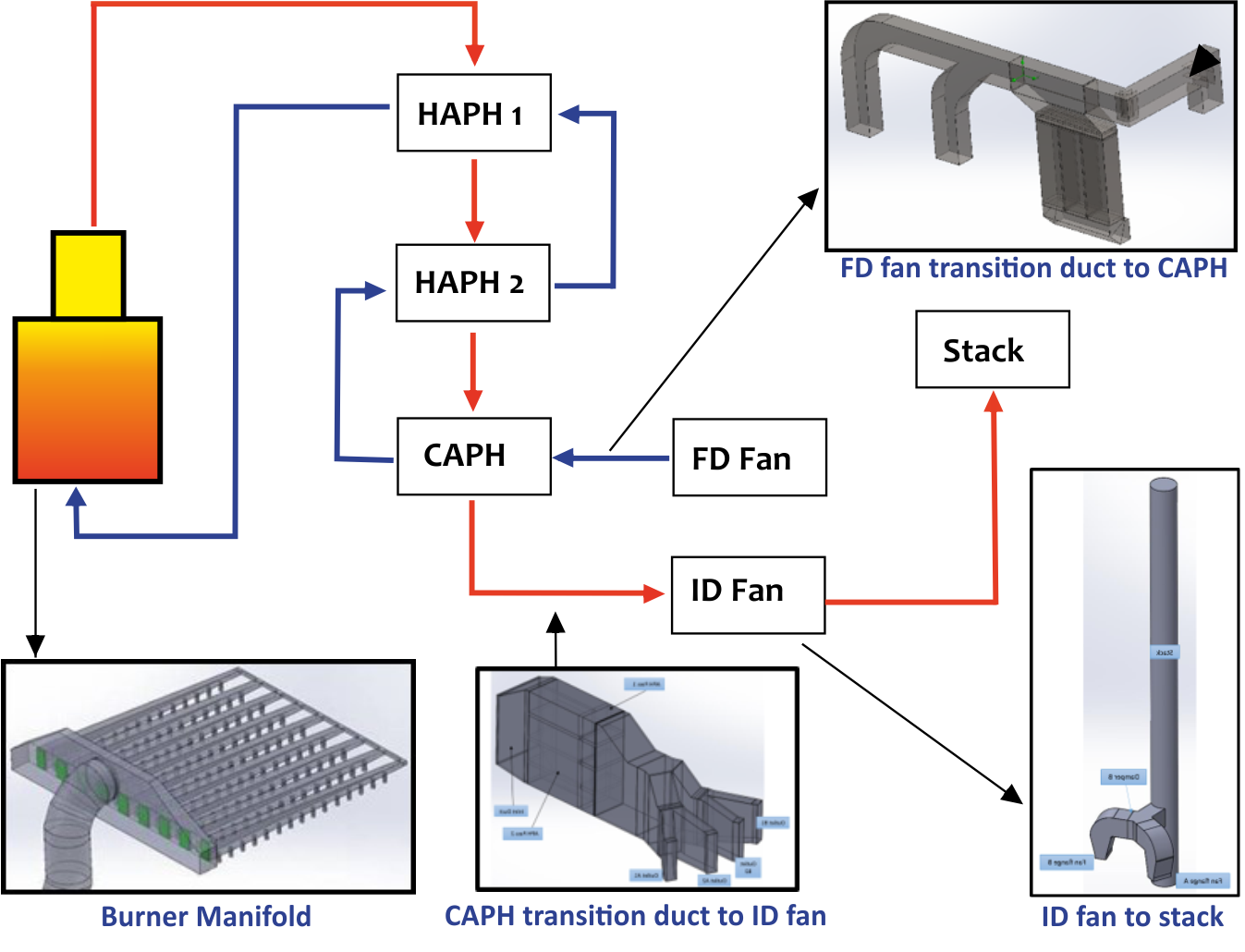 Commercial FloEFD using advanced k-ε model for simulation of turbulent flow fields and heat transfer;
Simulation of customer's duct design;
Simulation of concepts to be validated by model experiments.
Flow Simulation helps in:
Analysis of flow mixing;
Analysis of flow rate distribution;
Analysis of by-pass flow;
Pressure drop calculation;
Analysis of flow uniformity;
Identification of high velocity areas.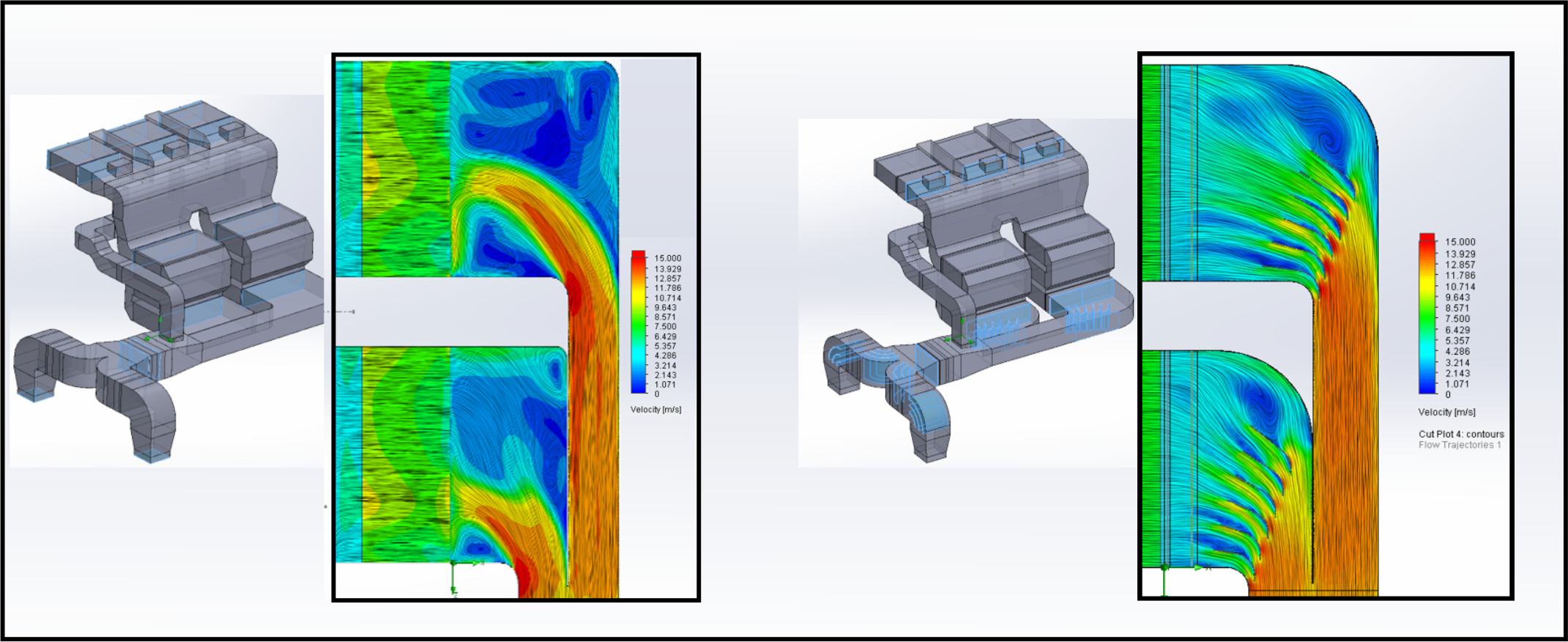 Example: Simulation and optimization of "Forced-draft Zone".
Left: Original Design.
Right: Improved Design. Colour coding shows velocity magnitude in m/s. 
Case Study: Gas-Gas Heat Exchanger for a DeNOx Unit
Gas flow rate: 120.000 kg/h
Duty: 2500 kW
DeNOx units are applied to remove the nitrogen oxide (NOx) from the flue gas, as this is the major component causing acid rain and photochemical smog. For the reliable and effective performance of the DeNOx units, it is mandatory to have a defined and accurate flue gas temperature entering into the catalyst.
This can only be achieved by a well designed gas-gas heater with the confines of having a small temperature span exiting the equipment. The small temperature span can mainly be achieved by a counter flow arrangement of the heat exchanger.
Nevertheless, special care needs to be taken to guarantee a proper flow distribution entering the heat exchanger.
Non-uniform flow distribution may not affect the overall performance of the gas-gas heater, but has a major influence on the temperature distribution exiting the gas-gas heater.
APEX-Research made a detailed investigation of the flow distribution entering the gas-gas heater and optimized it by inserting our APEX-delfino Flow-Conditioner and Transition Duct. The optimization was performed with Computational Fluid Dynamics (CFD) and the result were validated with a scaled down experimental flow model.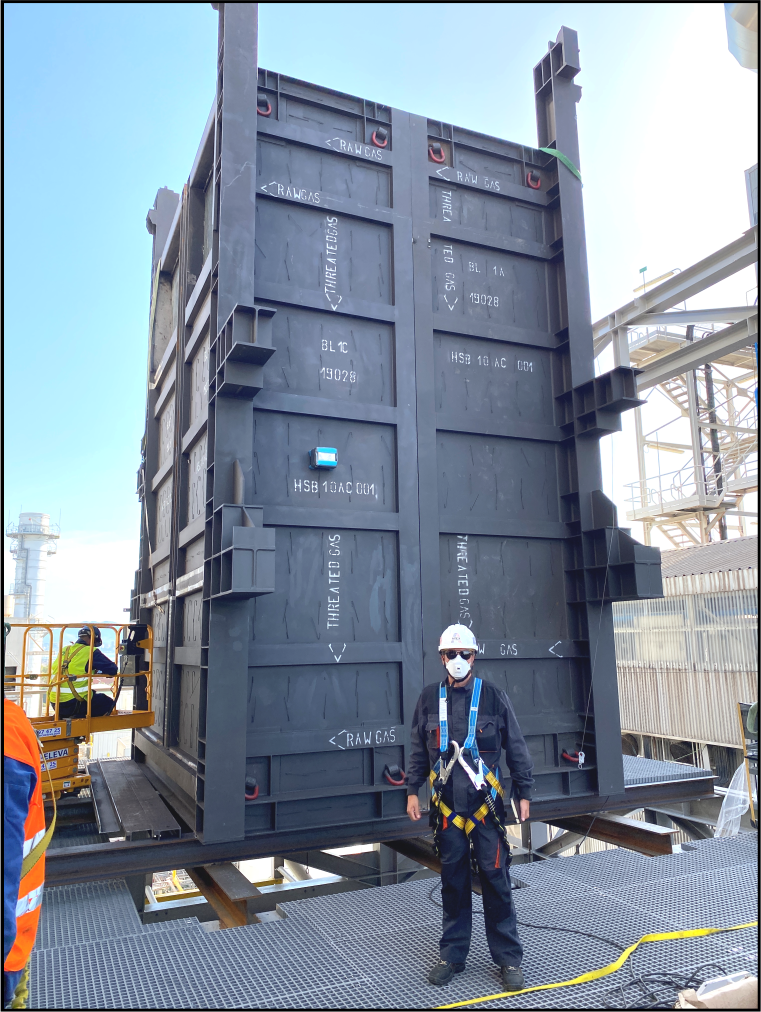 CORPEX® Gas-Gas Heater for a DeNOX unit