Protection against Corrosion
Acid-Resistant Metallic Heat Exchangers Coated with Borosilicate Glass
Corrosion-resistant Enameling
Enameled heat exhangers, both plate and tube, are specically designed to handle highly corrosive fluids (acid or water condensate) and to resist corrosion. 
Corrosion-resistant borosilicate layers are applied on a metallic substrate (plate or tube), as a proven solution for cold-end protection. The metallic substrate imparts mechanical strength to heat transfer surfaces during operation and water/steam washing. The glass-enameled surface can withstand temperatures between -60 °C and 450 °C and can handle acids and alkalis.
Resistant to Sulfuric Acid
High thermal conductivity of carbon steel
Operating temperature up to 260 °C
(up to 450 °C possible)
Good resistance to heat cycles and thermal shocks
Easily replaceable H.T. elements (for tubes)
Mechanical strength of the metallic substrate (non-breakable)
Operationally Friendly
Glass surfaces in contact with the flowing fluids are extremely smooth, effectively repelling fouling and easily cleanable with water or steam.
Thermal Shock Resistant
Our glass-enameled products are thermal shock tested and approved by third parties. They can resist temperature variations of 400 °C. Contact us for more information and references.
DeSOx / CCS Gas/Gas Heater
"Cold-end" Air Preheater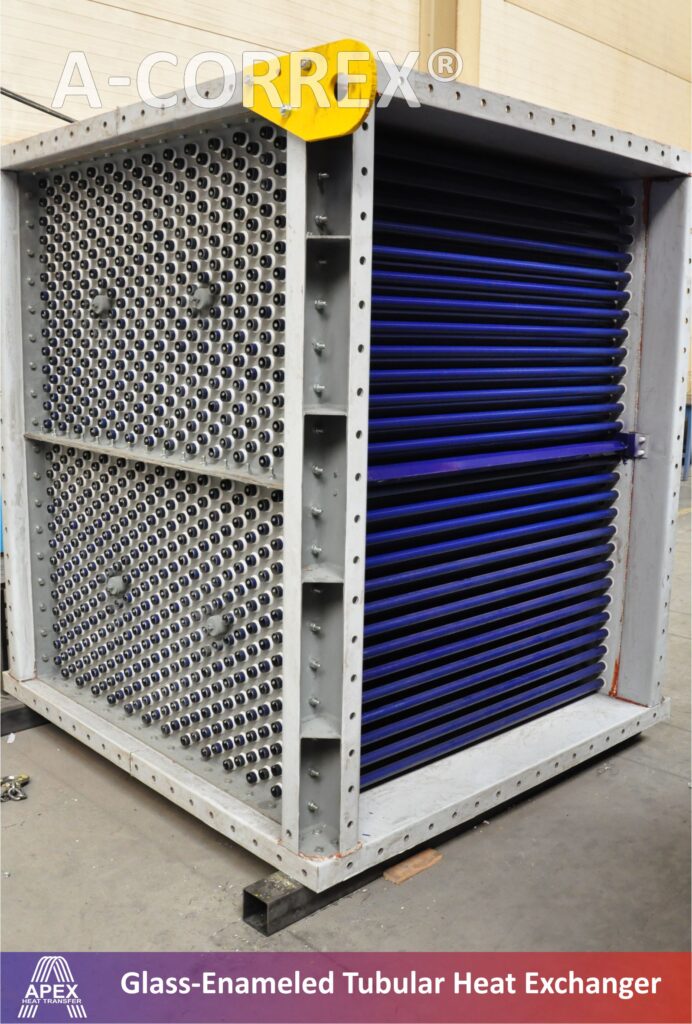 Enameling Furnace of 40 m long
The enameling furnace, longer than 40 meters, is the heart of APEX Group's enameling process; this process is supported by auxiliary operations such as glass-beads blasting or degreasing. The enameling furnace is placed in a separate building, which ensures low contamination risk for dust particles, supporting the high quality of the glass-enameled products.
A-CORREX Technology for both Plate and Tubular Acid-Resistant Heat Exchangers
1. Enameled Flat Plate Heat Exchangers. Plate Core is free to Expand
The exchanger is built from parallel glass-enameled plates assembled by proprietary methods. The plate-core is free to expand, which prevents cracking of the glass layer during the thermal cycles. The rigid frame consists of panels, protected by Teflon layers or glass-coating in the area in contact with the corrosive gases.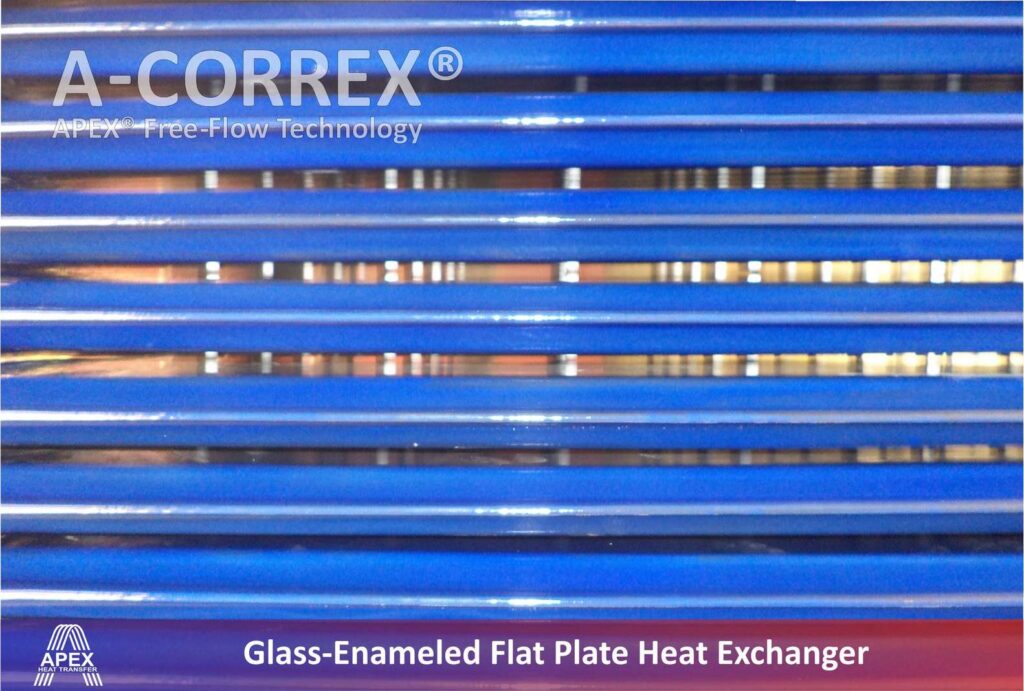 2. Enameled Tubular Heat Exchangers with Special Sealing Method
Glass-enameled metallic tubes offer an alternative design to glass-enameled metallic plates, characterized by the same extraordinary resistance against high differential pressure and temperature shocks during operation. The glass-enameled metallic tubes are placed in a rigid frame. A special sealing method, used for connecting the tubes into the tubesheets, helps to prevent leakage.
The tubes are easy to replace, provide a good resistance against acid corrosion and do not break; they are less fragile compared to glass tubes. The tubes can contain pressurized fluids, e.g. high-pressure steam and water.