CORTEX® Core Tubular Heat Exchangers
Heat Exchanger Operating in Corrosive Environments
APEX Group develops, fabricates and supplies a range of proprietary non-pressurized tubular heat exchangers. The heat transfer elements are made of bare cylindrical or oval tubes, arranged in triangular, square or rectangular pattern.
Our CORTEX Heat Exchangers are upgraded with A-CORREX® Technology to operate with flue gasses below the acid dew point to further decrease the exhaust flue gas temperature.
Characteristics:
Constructed from metallic (glass-enameled or polymer lined) or polymer composite tubes
Suitable for working with corrosive (condensing) fluids (with A-CORREX® Technology)
Easy replacement of the heat transfer elements
Easy to wash due to smooth Glass enameled or polymeric surface
Simple and cost effective construction
Good response to thermal cycles and thermal shocks
Relatively higher pressure drop and lower thermal effectiveness is achieved comparing to CORPEX® or V-FLEX® heat exchanger of the same size.
Fluids Handled:
Combustion Air
Flue gas from combustion of: gaseous fuels, liquid fuels, coal, wood, waste, biomass
Vapor, condensing or non-condensing
Industrial exhaust streams
Typical Services:
Combustion Air Preheater
Gas-Gas Heater
Flue Gas Cooler/ Condenser
Typical Technical Specifications:
Design Temperature: Up to 260 °C (possible higher)
Design Differential Pressure: Up to 0.5 barg
Duty Range: Unlimited
Thermal Effectiveness: ~70%
Pressure Drop Rates: 0-0.1 barg (max. 0.5 barg)
Leakage Rate: Less than 0.1%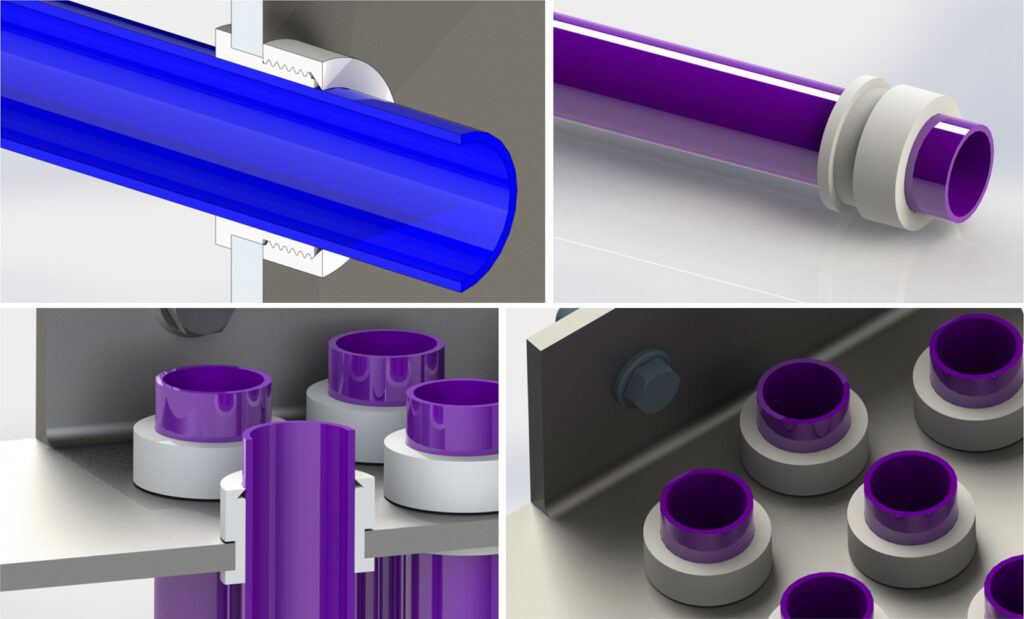 Corrosion Resistant Materials
1. Glass-Enameled Carbon Steel
Made from carbon/stainless steel enameled with borosilicate glass
Resistant to Sulfuric Acid
High thermal conductivity of carbon steel
Extremely smooth, effectively repelling fouling and easily cleanable with water or steam
Operating temperature up to 260°C (up to 450°C possible)
Good resistance to heat cycles and thermal shocks
Easily replaceable heat transfer elements (tubes)
Mechanical strength of the metallic substrate
Extremely smooth, effectively repelling fouling and easily cleanable with water or steam.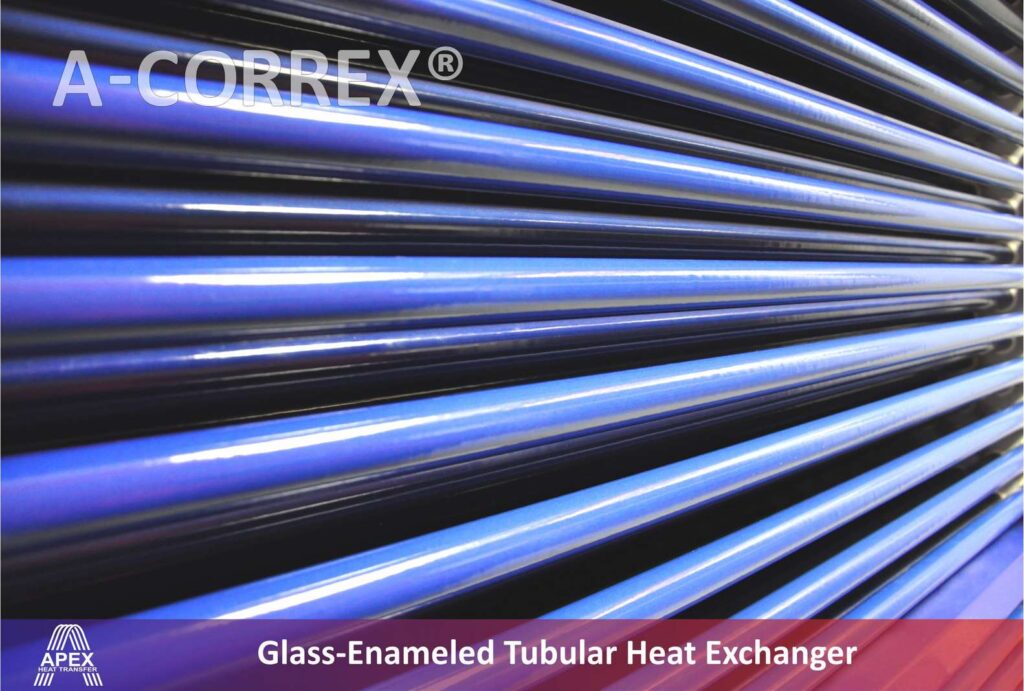 2. Polymer Composite
Made from a special type of Polymer, featuring a higher thermal conductivity compared to pure polymers
Resistant to virtually any chemical attack below Acid Dew Point and Water Dew Point
Operating temperature up to 200 °C (short term peaks 220 °C)
Good resistance to heat cycles
Easy replaceable heat transfer elements (tubes)
Light weight