ERTC is Europe's largest and most senior meeting place for the world's downstream leaders, bringing together refineries and technology providers to address the short, medium and long term issues affecting the industry. Hot topics for 2021 include the recovery from a volatile 2020 and shaping refining's role in Europe's long-term sustainable, decarbonised energy system.
APEX Group is participating in this event and you can meet us at booth 57.
Visit us to find out more about our new acid resistant heat exchanger: V-FLEX heat Exchanger with A-CORREX Technology.
The transition to a green industry forces companies in many sectors to develop innovative solutions to reduce the amount of energy used and to improve efficiency of the processes. There is also a growing need to recover more heat from the flue gas and to clean it before it is discharged into the atmosphere.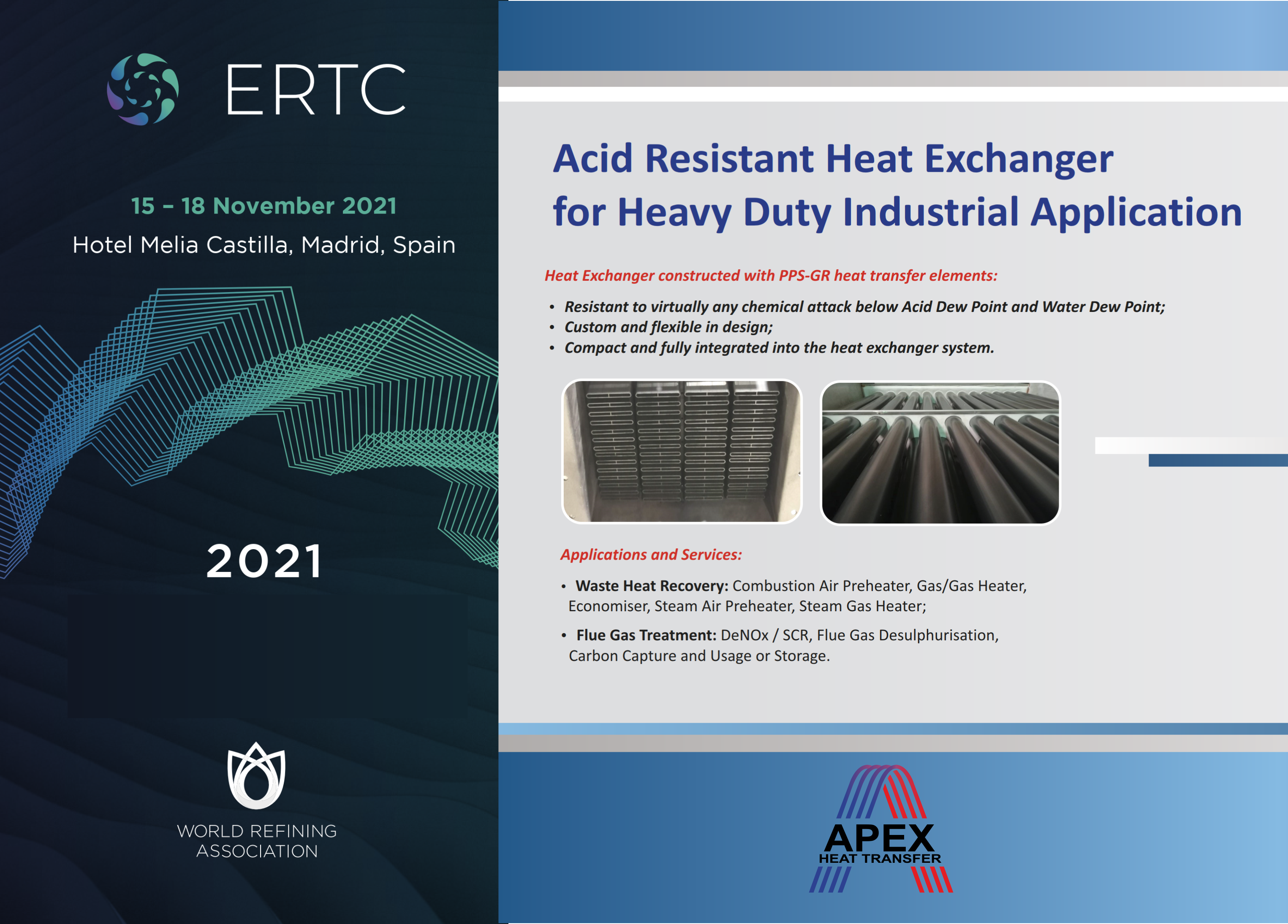 In case of majority of process fired heaters, the heat recovery from flue gas aims at increasing the overall efficiency of the process by preheating the combustion air. Such approach, for which heat exchangers are essential, allows reducing fuel consumption, which in turn has direct effect on reduction of harmful emissions and operational costs.
Nowadays, the exhaust flue gas temperature is usually defined by the need of avoiding acid condensation. Especially in the case of fired heaters, boilers or process furnaces, the heat exchangers in air preheat systems are usually designed to have a minimum metal temperature close to, but above the acid dew point (ADP) of the flue gas (e.g. 10-15 °C above ADP) to avoid condensation of H2SO4 and, as a result, to avoid corrosion of the heat transfer surface.
Sometimes, operation below the ADP cannot be avoided. In these cases, precautionary measures can be taken to extend the lifetime of the air preheater, for example through expensive glass or polymer coating techniques applied to its sensitive metallic parts.
However, constant operation below the ADP will cause severe corrosion issues in heat exchangers constructed from ordinary metallic materials.
Constant operation below the acid or water dew point requires a heat exchanger constructed from acid resistant materials at an affordable cost. APEX Group has expanded its A-CORREX Technology by developing an improved type of acid resistant heat exchanger. The new product is constructed from heat transfer elements made of high thermal conductivity and acid-resistant polymer composite known as PPS-GR.
Find out more about this on our website and also by visiting us at ERTC Conference.